Directional Insights recently enjoyed a research trip to London. While we were there we had a chance, of course, to check out the latest in UK retail and shopping centre development. While much has rightly been written about Westfield Stratford City, we were also very impressed with Westfield London.
The 150,000 sq. m. centre was built at a cost of around £1.6bn (A$2.7bn), and opened in October 2008. When we visited, late on a Wednesday night, the centre was quiet but still impressive with shoppers making their way around for some late night mid-week purchases.
Public transport access was good – we hopped off the tube at Wood Lane and made the brief walk across to the centre.
From the outside, Westfield London is monolithic. Stepping inside, the scale of internal space is not at first obvious. A plain entrance hall with double escalators took us past Next into the first level on the North West Corner of the building, which is roughly rectangular in shape with anchors at each far corner. Access between levels is easy with escalators interspersed throughout the centre.
Westfield London is not a strikingly different retail form in any way, but what it does it does very well. It is immaculate, and the presentation throughout the centre and in every store is superb. Westfield has clearly set an exacting standard and brought every retailer up to meet it.
No corners have been cut on fit-out, display or merchandising. Shop fronts run horizontally, but use three-dimensional space to create unique facades that are integrated to the character of each store's brand and internal environment. It is hard to find a single item out of place in any store. The lighting is splendid and matched to merchandise offer – the Disney store glitters like a fairy ice-cream cake.
We saw one SALE sign in the entire centre.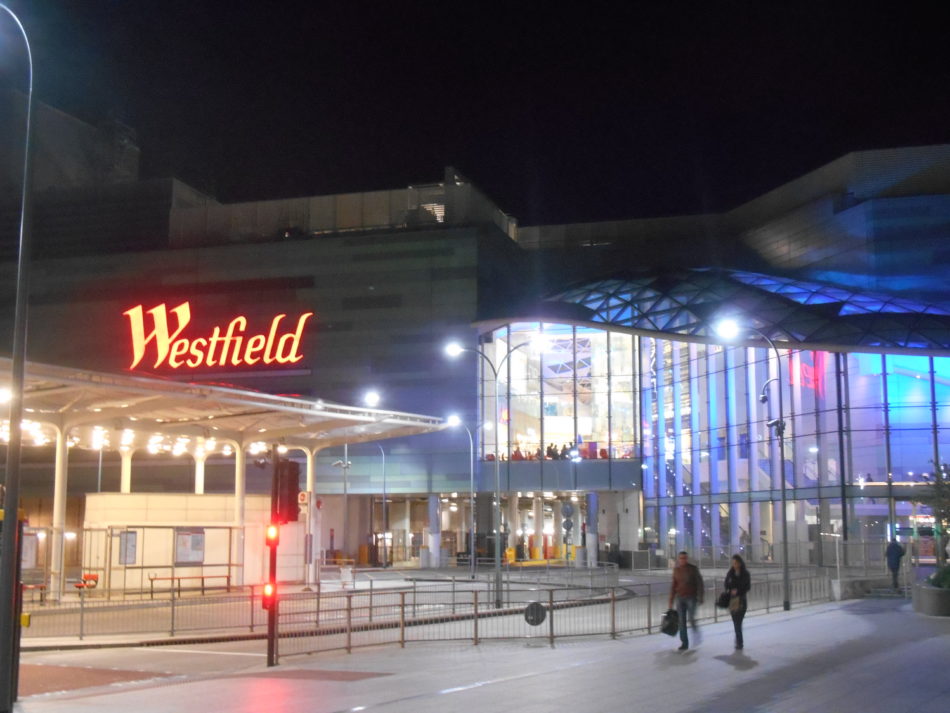 Continuous sales have become a significant deflationary driver and an exercise in brand devaluation in Australian retail. The message at Westfield London appears to be that the centre (and its offer) is too good for sales. Here you pay the full price because that's what it's worth.
On the upper levels double shop fronts sit beneath a high curved ceiling structure filled with triangulated skylights. There are no "down-market" sections in this centre, but it's also clear where the money is.
In the high-end precinct chandeliers, that must be 15 feet in length, are suspended above a grand piano and leather lounge chairs. The toilets are more luxurious than those in a five-star hotel.
One of the strengths of a shopping centre of this scale of investment is that while catering to a full range of demographics, it embeds aspiration into a built form. There are no barriers to the high-end of the centre, anyone can access it (and use the bathrooms!). If you can't afford to shop here, you can experience what it might be like to shop here. The upper end provides a stamp of class for the entire centre, elevating the experience of all customers.
And as we said, while the upper end is clearly different, it is not so different from the rest of the centre. Corridors throughout are exceptionally wide, ceilings very high. The upper floors contain wells to lower levels, contributing to the sense of spaciousness throughout.
The centre atrium is massive, extending from the ground floor to the roof, with a vertical sight line interrupted but not obscured by broad overhead pedestrian access ways.
The boundaries of space envisaged for internalised malls is being pushed at Westfield London: the atrium feels like public space because it's so large. The ground floor, too, is uncluttered, almost like a tiled park, with no commercialised activity.
Victor Gruen's original vision for the shopping centre was the inclusion of non-commercialised space. And while you couldn't really say this about Westfield London, leaving the heart of the ground floor open with such expansive breadth and vertical depth with no commercial clutter, has create a powerful sense of public space.
The most apparent lesson from Westfield London concerns standards: setting them and meeting them. The centre is immaculate, every shop is beautifully presented and tightly managed with space being utilised as an architectural element in sophisticated internal place making. Retailers have come on board and importantly they have not jumped on the downward spiral of endless and gratuitous sales, which cheapen the aesthetic of shopping centres and erode brand value.